Inner Beauty is a sad love story about two girls who are competing for the same guy, a handsome boy named Eric.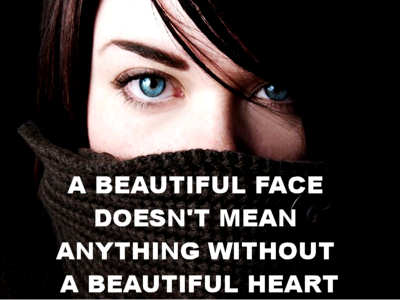 There was a guy in my high school who was very handsome. His name was Eric and all of the girls in school had a crush on him. There were two girls in particular who were head over heels in love with him. Their names were Katherine and Carol.
Katherine was very good-looking. She was one of the popular girls. She was a cheerleader, always wore makeup and dressed in sexy clothes.
Carol wasn't very good-looking. Don't get me wrong, she wasn't ugly. She was just one of those plain, average-looking girls that nobody pays attention to.
Katherine and Carol were both competing for Eric's attention, but really there was no contest. Katherine didn't have to do much to attract Eric. Just one look at her blonde hair, her pretty face and her cute body and he was hooked.
Carol on the other hand, showered Eric with love and care, but she wasn't a cheerleader. She wasn't beautiful and she didn't have a great body. She was plain and overweight. All she had was her personality and that wasn't enough.
So, as everyone expected, Eric chose Katherine.
However, Carol never gave up. She wanted to prove something. Maybe she wanted to prove it to Eric or maybe she just wanted to prove it to herself. She wanted to prove that looks aren't everything.
She studied hard, really hard. She became the top girl in the class. She started losing weight. All the guys who had once ignored her, started taking notice of her, but she never forgot Eric.
Every day, she put a red rose in Eric's locker, always with the same words: "I care for you and I always will."
As time went on, Eric began to realize what a stupid mistake he had made. He heard rumors that his beloved girlfriend Katherine had been cheating on him behind his back. He couldn't believe how dumb he had been. He regretted choosing the wrong girl
Soon, Katherine found a guy with more money and broke it off with Eric. He felt so cheated, so stupid, so dumb, so used. He went to Carol's house and knocked on her door. When she opened it, he got down on his knees.
"Carol, please forgive me," he said. "I was stupid and shallow. Do you want to be my girlfriend?"
Much to everyone's surprise, Carol rejected him.
"I don't want to be your girlfriend," she said. "I just want to be your friend. You've already suffered a great loss and, so I don't want you to face another one…"
Eric was disappointed. He didn't understand what she meant.
In spite of that, they became good friends. Carol and Eric started hanging out all the time. They did everything together.
Eric began to change into someone better because Carol showered him with the kind of love he had never experienced before. His ex-girlfriends had never treated him that way. They just wanted him for his looks, but Carol accepted him for himself. She changed him.
Carol continued putting a red rose into his locker every day, always with the same words: "I care for you and I always will."
One day, Carol didn't show up for school. She didn't come in for a week. Eric thought that she was on vacation with her family. But one day, he received a call from the local hospital saying that Carol was about to die. He was shocked and horrified.
It turned out she had been suffering from pancreatic cancer. That was the reason for her dramatic weight-loss. Carol had known she was sick for a long time, but she hadn't told Eric because she didn't want him to worry about her.
But now that she was at death's door, teetering on the edge of forever, all she wanted was to see Eric one last time.
Eric rushed to the hospital and when he saw how frail and weak Carol looked, he couldn't hold his feelings in. Tears began flowing down his cheeks.
"Why didn't you tell me?" he whispered. "Why did you hide this from me for so long?"
She opened her eyes and looked up at him. Then she smiled weakly and said, "I told you I didn't want you to suffer another loss. I wanted our last days together to be cheerful and happy."
Eric was overcome by emotion.
"You can't leave me!" he cried. "What will I be without you?"
"You'll be exactly who you are now," she replied. "I will always be there by your side. Cherish the time we spent together. Live life happily. And one more thing…"
"Yes?" he said.
With her last breath, she whispered, "Never forget that I loved you."
And with that, she closed her eyes and died.
Eric fell to his knees and screamed. He couldn't accept Carol's death. They had only spent a month together, but in one month, Carol had changed him. She had changed his life in a way that no one could ever explain.
He had so many regrets. All he could think of was how much time he had wasted. How much time he could have spent with her.
The next day, when Eric opened his locker, he found a red rose lying there with the words: "I care for you and I always will."
Sometimes we don't appreciate the people who truly care for us until we lose them. Then, after they're gone, all we are left with is our regrets.
In the end, outer beauty doesn't really matter. It's inner beauty that counts. Life is short and it's better to spend your precious time with the right person, rather than waste it on someone who just looks like the right person.