Gettysburg College was known as Pennsylvania College back at the time of the Battle of Gettysburg. The campus was involved in the fighting and even provided shelter for the wounded and dying as a field hospital.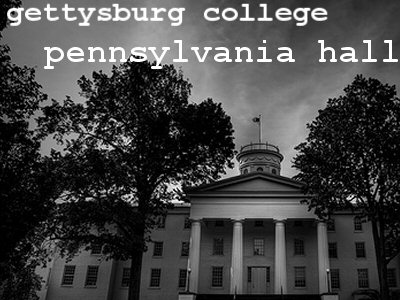 Not surprisingly, Gettysburg College is said to haunted by the ghosts of dead soldiers. One of the most haunted buildings on campus is Pennsylvania Hall, which was taken over by the Confederate soldiers during the battle.
Students and staff members of Gettysburg College have reported seeing the ghostly figures of soldiers pacing back and forth in the cupola of the building.
One student reported that he and his roommate, who lived in a dorm about 50 yards away from Pennsylvania Hall kept seeing a shadowy figure in the tower over a period of several nights. On another occasion, a figure was seen to be gesturing wildly, apparently to a student below. When the student called out to him, believing that perhaps someone was trapped in the tower, the figure vanished. An investigation by campus security found the building to be empty.
When Gettyburg College served as a field hospital during the battle, conditions for the wounded soldiers were terrible. Blood sprayed the walls and floors of the rooms as doctors operated without anesthetic, dealing with bullet wounds by amputating arms and legs. Those who were beyong help were left to die outside. Even today, people have heard horrible wails, groans and cries echoing in this area.
Two men were working on the fourth floor of Pennsylvania Hall one night. As they were leaving, they stepped into the elevator and pushed the button for the first floor. Instead of taking them to their destination, the elevator mysteriously passed it and came to a stop on the basement level. The elevator doors then opened to a terrifying scene….
The basement storage room had vanished and in its place was a blood-splattered operating room. Wounded men were lying prone on the floor and doctors walked around in bloody clothing. The entire scene was completely silent, although it was obvious that it was one of chaos.
Stunned and horrified, the men repeatedly pushed at the elevator button, desperately trying to close the doors and escape the scene which lay before them. Just before the doors closed though, one of the spectral orderlies was said to have looked up, directly at the two administrators.
Whatever happened that night, the two men were shaken and frightened by it and never forgot their strange experience. After that, whenever they had to work late at night, they always left the building by way of the stairs.