The Bullock Hotel in Deadwood, South Dakota is haunted by the ghost of Seth Bullock, the first sheriff in the lawless town of Deadwood. At that time, the town was infamous for gunfights, barroom brawls and murder. In 1896, the Sheriff built the Bullock Hotel and he died in room 211 in 1919. Some say his ghost never left.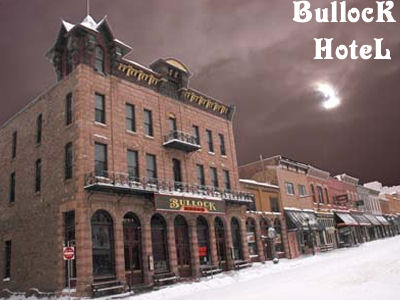 Hotel staff have reported seeing the ghost of Sheriff Bullock wandering the hotel's corridors late at night. Hotel guests have heard his footsteps outside their doors and heard his voice calling their names during the night.
On one occasion, a small boy became lost in the hotel's corridors. When his parents found him, he told them that an old cowboy had kept him company while he was lost.
Guests who have taken photographs in Room 211 have captured misty anomalies on film. Visitors have also experienced paranormal activity, such as lights and appliances turning on and off of their own accord. Showers turn on by themselves. Restaurant staff have seen glasses shaking and plates being thrown across the kitchen by an unseen hand.
Once, a cowboy from Wyoming was staying at the hotel in Room 302. When he was checking in, he loudly proclaimed he didn't believe in ghosts. During the night, he heard a knock on his door. When he answered door, cracking it open because he hadn't bothered to dress before he responded. When he saw no one was there, he opened it wider, only to feel himself being pushed out the door, which shut and locked behind him. He was left standing fully naked in the corridor. Was the ghost of Seth Bullock playing a prank on this brash cowboy?
Another incident occurred when a hotel employee went to an office in the basement and saw the shadow of a man pass by him. When he turned to see who it was, no one was there. Another staff member passed the otherwise empty bar in the same area, and all of the chairs at the bar were neatly tucked under it. He heard a noise when he entered the office, then went back out to find every chair had been thrown around the room.
The Bullock Hotel has been featured on the TV show Unsolved Mysteries.