Public Art creatued by sculptors and designers to freak people out. These creepy artworks can be found all around the world.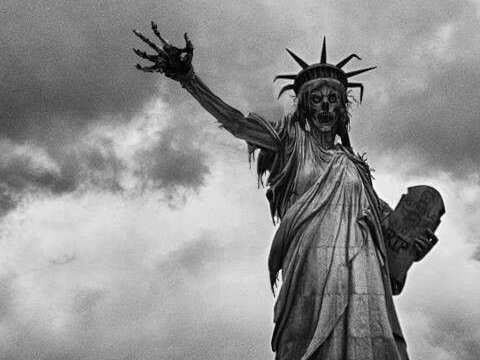 1. Shark Bench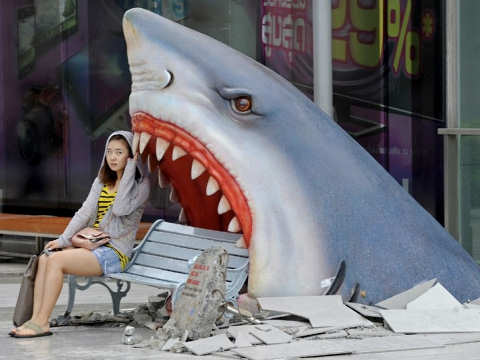 This awesome shark bench is located outside the Paragon Mall in Bangkok, Thailand. It is an advertisement for Siam Ocean World. There seem to be a number of these benches around Bangkok.
2. St. George's Church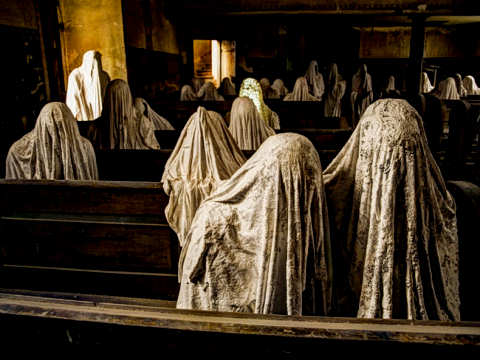 St. George's Church in the Czech Republic was abandoned after part of the roof collapsed during a funeral service in 1968. The ghost sculptures were added by artist Jakub Hadrava to make it a bit more terrifying.
3. Famine Memorial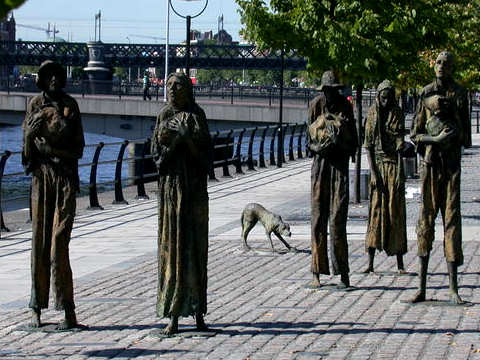 These bronze sculptures in Dublin, Ireland is to commemorate Irish people who either starved to death or were forced to emigrate during the 19th century Irish Famine. They were designed and crafted by Dublin sculptor Rowan Gillespie and are located on Custom House Quay in Dublin's Docklands.
4. Feltepve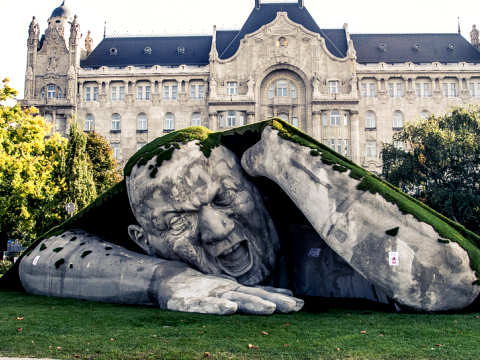 This enormous sculpture in Ulm, Germany is titled 'Feltépve' which means "ripped up" or "pop up". The gigantic man appears to be emerging from underneath a blanket of grass. It was created by Hungarian artist Ervin Herve-Loranth.
5. Fremont Troll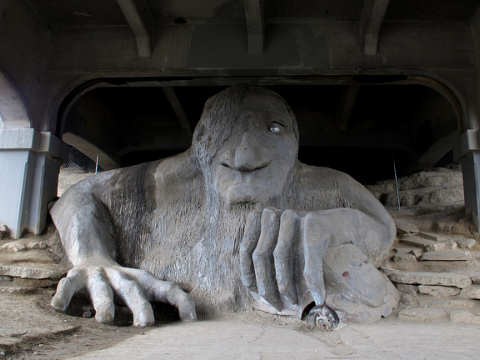 The Fremont Troll in Seattle, Washington. This public art sculpture is located under the north end of the George Washington Memorial Bridge on North 36th Street at Troll Avenue.
6. Shadow Creatures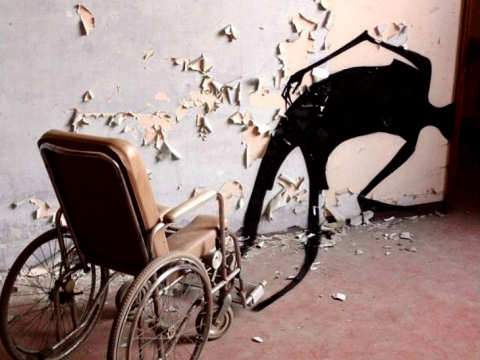 These shadow creatures appear on the walls of an abandoned mental hospital in Parma, Italy. They were created by artist Herbert Baglione for a project he calls "1000 Shadows". The creepy figures seem to emerge from old wheelchairs and slide across the darkened hallways, peering into empty rooms giving the corridors of the old building a fantastically eerie atmosphere.
7. Blue Mustang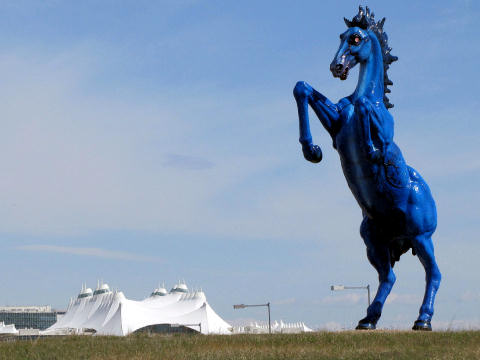 This enormous sculpture of a blue mustang horse is located near Denver Airport. It is 32 ft tall and has red, glowing eyes that make it appear to be demonic. It got the nickname "Blucifer" and a lot of people wanted it to be removed because it looks so scary. The artist, Luis Jiménez, says it is meant to represent the wild spirit of the old American West.
8. The Ferryman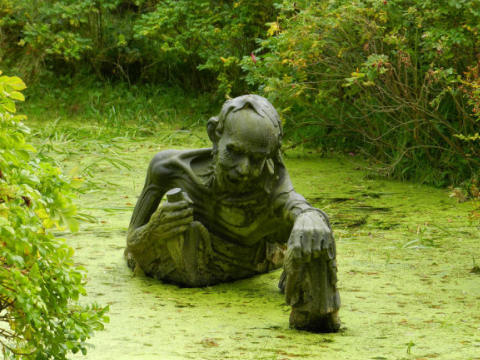 The Ferryman is a scary sculpture rising out of a swampy river. It is in Victoria's Way meditation garden in County Wicklow, Ireland.
9. Electrical Pylons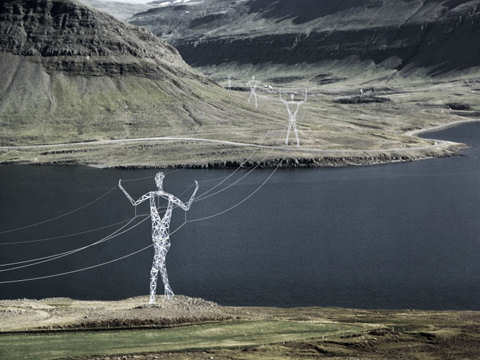 These electrical pylons in Iceland were transformed into giant statues walking across the landscape
10. The Guardians of Time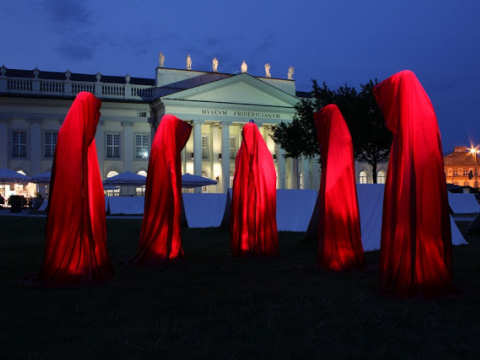 These mystrious red cloaked figures appeared in the town of Kassel in Germany. They were created for an art festival and placed randomly around the town by Austrian artist Manfred Kielnhofer who says they are supposed to ask people to remember things which are not forgotten but are not spoken about.
11. Red Kappa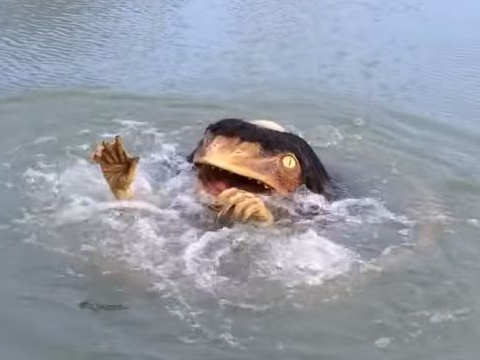 This Red Kappa is in a small pond at Tsujikawayama Park in the town of Fukusaki in Japan. The mechanical monster cost 3 million yen (US$25,000) to install and has become a local attraction. Every 30 minutes, the water begins to bubble and the hideous Kappa emerges from the depths. It is supposed to be a homage to the writer Kunio Yanagita, who was born in the town in 1875 and is known as the Father of Japanese Folklore.
12. Mud Maid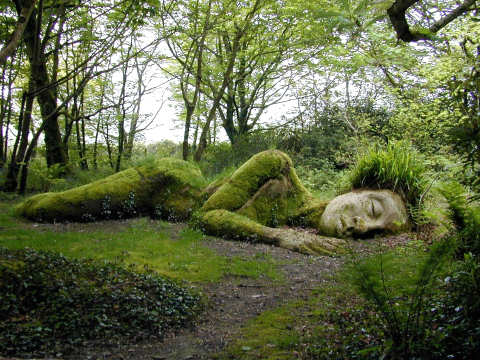 This sleeping moss giant, known as The Mud Maid, is located in The Lost Gardens of Heligan in Cornwall, England. These gardens, once destroyed by a hurricane, now are one of the most popular botanical destinations in the UK.
13. Faceless Babies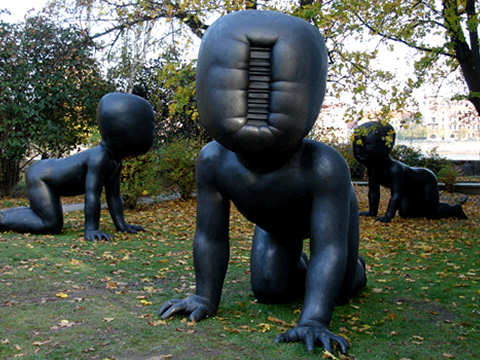 These faceless babies are in Kampa Park in Prague, Czech Republic. The gigantic sculptures have no features, just some kind of barcode or tyre track stamped into their faces. They were created by controversial artist David Cerny as part of his "Babies" project. More of these grotesque babies can be found crawling up the huge TV Tower on the other side of the city, in Zizkov.
14. Hooded Figure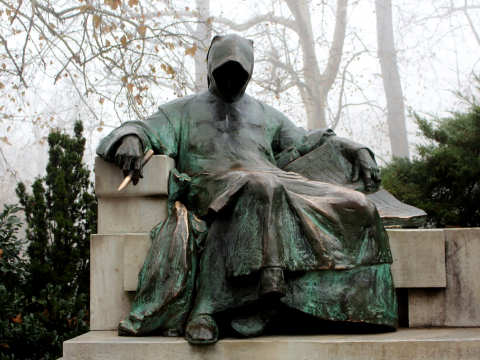 This morbid hooded figure can be found in Budapest, Hungary. The bronze statue's face is covered, hiding any expression or feeling. It holds a giant pencil in one hand and a journal in the other. It was created by impressionist sculptor, Miklós Ligeti in 1903 and it sits in Budapest's City Park in front of the Vajdahunyad Castle.
15. Veijo Rönkkönen

Deep in the forest of Parikkala, in the easternmost part of Finland, lies one of the craziest tourist attractions on the face of the planet – the sculpture park of Veijo Rönkkönen. Some of these sculptures use real human teeth. They were created by an eccentric recluse named Veijo Rönkkönen who refused to disply mthem. After his death, the park was bought by a businessman who opened it as a tourist attraction.
16. Mark Jenkins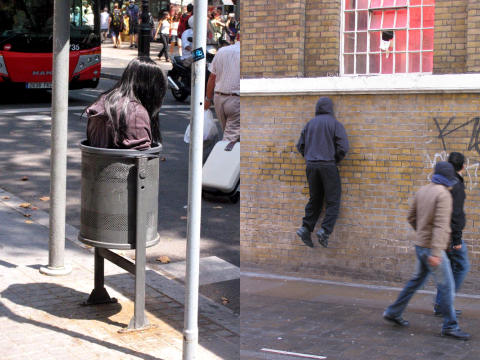 Sculptor Mark Jenkins places lifelike mannequins in public spaces and poses them in odd situations, often in some kind of distress or danger. The first one is titled Barcelona Trashgirl and the second was taken in London.
17. Maman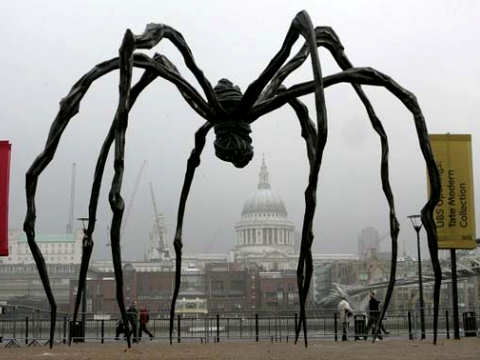 Louise Bourgeois' sculpture, Maman 1999, outside the Tate Museum in London in 2007. It's one of a series of spider sculptures.
18. Kumbakarna Laga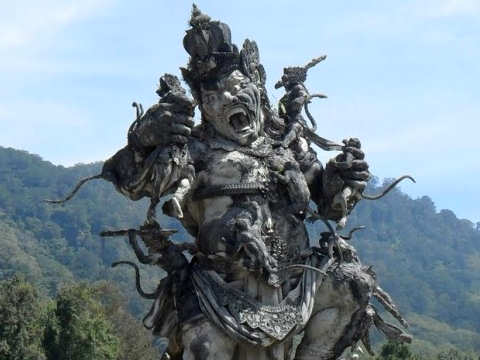 This giant statue is in Bali Botanical Garden in Bali, Indonesia. It depicts an old hindu legend about a battle between Kumbakarna Laga and an army of monkeys.
19. Moss Covered Statues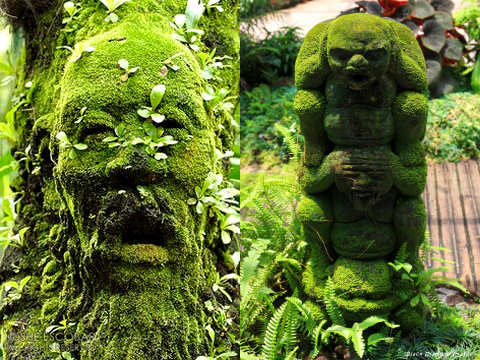 These creepy moss-covered statues are located at the National Orchid Garden in Singapore.
20. Mano de Desierto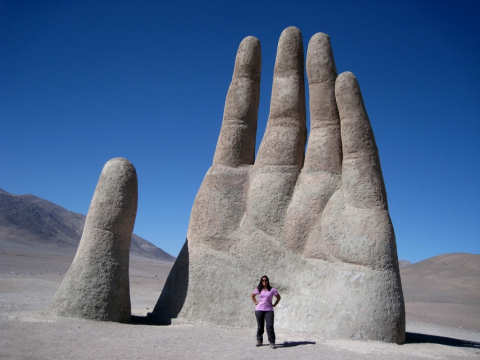 The Mano de Desierto is a sculpture of a giant hand located in the Atacama Desert in Chile. The sculpture was constructed by the Chilean sculptor Mario Irarrázabal. He used the human figure to express emotions like injustice, loneliness, sorrow and torture. Its exaggerated size is said to emphasize human vulnerability and helplessness.