The Pretty Girl is a scary poem about a girl who falls in love with the wrong kind of boy. It is based on an old English folk song called "The Bloody Miller", an old Irish ballad called "The Wexford Girl" and an old American murder ballad called "The Knoxville Girl".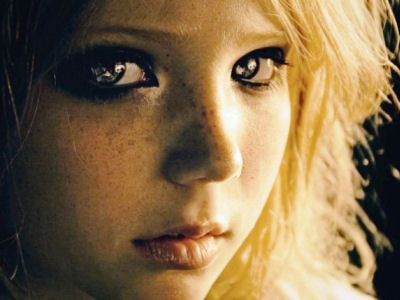 Once, there was a pretty girl
Who was looking for a boy,
And when she found the perfect one
Her heart was full of joy.
She did not know that he was prone
To violence and sin.
He promised he would marry her
If she would go with him.
They went out for an evening walk
And stopped a mile from town.
Suddenly, he grabbed a stick,
And knocked the poor girl down;
He kicked her and he dragged her to
An isolated place.
Laughing, he drew back his fist
And punched her in the face.
She fell down in the mud and then,
Began to scream and cry
"Please, my love! Don't kill me here!
I'm not prepared to die!"
Before she said another word
He struck her with the wood.
On the ground around his feet,
There formed a pool of blood.
From his pocket, he produced
A rusty knife and sighed,
"Just two girls said No to me,
And both of them have died."
From ear to ear, he slit her mouth,
And stabbed her in the head,
He did not stop till he was done
And the pretty girl lay dead.
He grabbed her by her golden curls
And dragged her round and round
And threw her in the river
And watched her corpse sink down.
Then, finally, he noticed,
His trembling hands were dyed,
With the blood of the pretty girl,
Who should have been his bride.
He turned his back and left her
And got home by midnight.
His mother was so worried
She woke up with a fright
"Son," she said, "What have you done?
There's blood upon your clothes!"
He told his sobbing mother
He had a bloody nose.
She gave him a suspicious look
As he went straight to bed
And lay down on a pillow
To rest his aching head.
But murderers can never sleep.
Their crimes they can't erase.
His guilt was there for all to see
Her blood was on his face.
He lay trembling in the dark
Until he fell asleep
And dreamed the dead girl's corpse
Was rising from the deep.
He tossed and turned the whole night
And woke up with a start
Her ghost was standing by his bed
And reaching for his heart.
Next morning, his poor mother,
Came in and found him there
Muttering and hollering
And rocking in a chair.
They took him to the prison
And locked him in a cell
He claimed there was a pretty girl
Dragging him to hell
Now he wastes his life away
Locked in a crazy house
Because he murdered a pretty girl
Who never hurt a mouse.
Perhaps from his punishment,
A warning will unfurl,
That never again should anyone,
Harm another girl.
(Note: Sorry about all the poems. I was expanding other areas of the site. Now, I will get back to stories again.)