Free Ice Cream is a scary game about a creepy Ice Cream Man with a truck who turns out to be a crazed kidnapper.
This is an escape the room game where you play a little girl who is out playing with her friend Lilly one day. An Ice Cream man offers them "Free Ice Crem". Unfortunately, they are kidnapped and held prisoner by the murderous creep who brandishes a bloody meat cleaver.
Note: In this game, you will have to hide whenever you hear the butcher coming, or else he will kill you and you'll have to restart the game.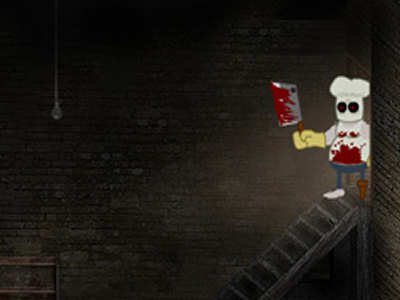 The Free Icecream game was created by a team of five students as a school project. (Peter Groeneweg, Dennis Haak, Martijn Kors, Brian van Bruggen and David Kamerman). "You are a little girl who ends up in a creepy cellar after being promised free "ice crem". Escape from the house without being caught by the insane cook!"
(Suggested by xfeardropx who asked: "Okay if anybody knows this game could you please tell me what it is called, it has been driving me crazy! Okay, there is a game that I played online once. It was about a girl that gets kidnapped. You play the girl and some creepy ice cream man kidnaps you and you wake up in his basement and have to find your way out of the house without him catching you. It is a cartoon-like animation game if that helps. If anyone knows what I am talking about, I would greatly appreciate your help. Thank you!")