Bedtime tales for sleepless nights. Read these short scary stories to your children just before they go to bed and they will never shut their eyes again. Perfect for inducing nightmares in kids and adults alike.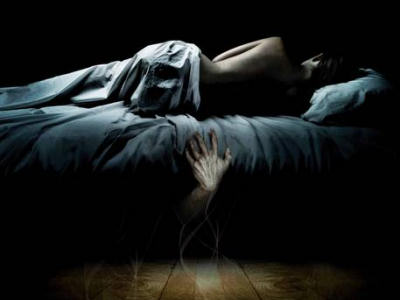 Bedtime Tales 1 – Afraid Of The Dark
There was a young boy who was afraid of the dark. Every night, he would leave the lights on when he went to sleep. After a while his parents got tired of this and told him he would have to grow up. But the boy continued sleeping with the lights on. So, on their way to bed, his parents would come into his room while he was asleep and switch off the lights. This went on for months. One weekend, his went on holiday and they left him home alone for a whole week. That evening, he stayed up late watching a horror movie on TV, but the lights were on, so he didn't get scared. He took out a book and read a scary story in bed, but the lights were on, so he didn't get scared. He went to sleep that night with the lights on and he didn't get scared. But, in the middle of the night, he woke up to find that someone had switched off the lights. That's when he got scared.
Bedtime Tales 2 – The History Of The House
This family moved into an old house that had been vacant for a few years. After they had been living in the house for a few weeks, they began to smell some strange odour in one of the bedrooms. One night, when they were watching TV, they saw a documentary about a father who had murdered his 13-year-old step-daughter, chopped her into pieces and hidden her body parts in the walls of his house. At the end of the documentary, it showed the address of the "murder" house. It was the house they had moved into. The creepiest thing is that the police found all of the girl's body parts,except for her head.
Bedtime Tales 3 – Calling Her Name
One night, a young girl was lying in bed, just on the verge of falling asleep, when she heard her mother calling her name from the kitchen. She went downstairs to see what her mother wanted, but as she was passing by the cupboard under the stairs, the door opened and a hand reached out and dragged her in. It was her mother, hiding in the cupboard. "Dont go into the kitchen," whispered her mother. "I heard it calling my name too."
Bedtime Tales 4 – The Family Next Door
We live in the house next door to you. We seem like a normal family. During the day, we go to work, we go to school, we wave hello as we pass you in the street. But at night, when you go to bed, we lock our doors, we close our curtains, we peel off our skin and sit around in our shiny white bones.
Bedtime Tales 5 – Sleep Alone
If you sleep alone at night, you should never sleep in a double bed. If you do, you should never just sleep on one side of the double bed. As the legend goes, in the dark of night, while you are sleeping on one side of the double bed, you will sense the presence of something or someone creeping into your room. The first night this happens, the thing will just lie down on the floor next to your bed and you will hear deep breathing. The next night, it will lie down next to you on the bed. You will hear the deep breathing right next to your ear and feel its breath on your neck. If you allow this to continue for another night, you will be woken in the middle of the night and your bed will be shaking. Then the mattress will start bouncing up because the thing will start jumping up and down on your double bed. Whatever you do, don't let it know you're not asleep.