The Accountant is a real ghost story about a haunted house on the island of Norrbyskär off the coast of Sweden.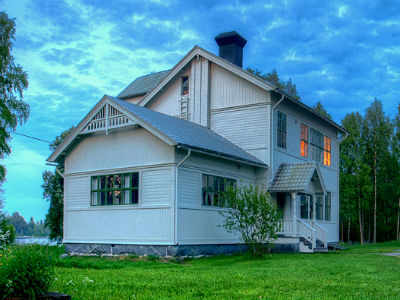 There is a small island just off the coast of Sweden called Norrbyskär. There are a lot of scary stories from this place, but the most famous one is the one about the accountant in the school and it is a true story.
There was a sawmill on the island between 1900 and 1952, and the company accountant lived with his family on the top floor of the school building. One day, the accountant did not show up for work and people went to his home to see what was wrong. They found him dangling at the end of a rope in the stairwell. He had taken his own life. Everyone was very puzzled by his suicide and they were also baffled when they couldn't find his wife and daughter.
A week later, the accountant's family were still missing. One of the men who had helped build the house went in and took a look around. The first thing he noticed was that someone had built a new brick wall beside the stove inside the house. It wasn't there when the house was first built.
They tore down the brick wall and found the dead bodies of the accountant's wife and daughter behind it. The surrounding bricks were covered in scratch marks and their fingernails were broken from trying to claw their way out.
They say the accountant stole money from the company. When his wife found out, he bricked her and his daughter up behind the wall, then hung himself in the staircase.
Today, the house is still empty and the wallpaper is peeling off the walls. It is believed to be haunted and anyone who goes there gets an eerie feeling when they go up to the top floor.