Top 10 scary claymation movies and animated horror videos.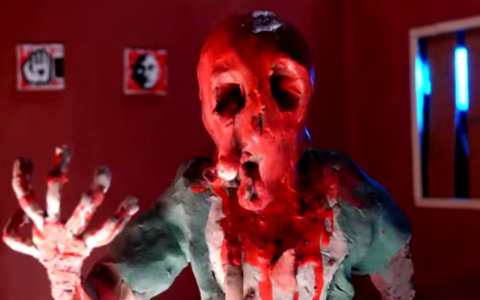 Chainsaw Maid
Chainsaw Maid is claymation horror film by Takena Nagao. This scary animation tells the story of a faithful servant who tries to protect her employers from a bunch of brain-eating zombies.
Mysterious Stranger
The Mysterious Stranger is a creepy segment from The Adventures of Mark Twain, a claymation movie for kids. In the clip, two children meet a strange man with a mask for a head. The mask changes appearance until it finally reveals the true identity of the mysterious stranger… Satan. When the movie was shown on TV, the Mysterious Stranger segment was usually left out, because it was considered too scary for kids. Which makes it perfect for this website.
Bloody Date
Bloody Date is a twisted horror animation by Takena Nagao. It is about a boy and a girl who go out on a date, but it goes horribly wrong when an axe-wielding murderer shows up. This short animated black comedy won the Toronto Japanese Short Film Festival Audience Choice Award in 2008.
Darkness Light Darkness
This is a creepy animation by Czech surrealist Jan Svankmajer. It starts off with two severed clay hands crawling around a room. They begin molding themselves into a human figure and then more body parts come knocking at the door.
Operator
Operator is a stop-motion animated short film by Sam Barnett about a man named Bob who is attacked by some kind of bio-mechanical parasite and has to fight for his life to survive.
Pussycat
Pussycat is a mixture of fairytale and horror claymation by Takena Nagao. A cute cat-girl goes to a creepy little pig's apartment. Then the big bad wolf shows up.
Within The Bloody Woods
Within The Bloody Woods is a horror animation by Takena Nagao. It comprises two episodes of an unfinished story about a man who is attacked by zombies in a dark forest.
Dead Girl Trailer
Dead Girl is a fake trailer for a claymation horror movie, made by Takena Nagao.
I think Takena Nagao did the voice-over himself. It's a little hard to make out what he is saying. I tried to do a rough transcript: "In the middle of the town, there was a murder. A girl was killed. Then some weird force bought her back to this world again. Dead Girl. She is greedy. She is (bahu?). She has no heartbeat and has no mercy. Violence breeds violence. Now vengeance from the grave has begun. Dead Girl. Rated X."
Bloody Night
Bloody Night is like Sesame Street gone wrong with a poor little girl being terrorised by a large hungry red monster who chases her down a dark alleyway. An old man tries to help and so does a policeman.